Akatsuki (あかつき)

Official art of Akatsuki. Source
Sprite
Release
Meaning

Red moon in Japanese

Age

?

Gender

Female

Appearance
Hair

Dark blue

Eyes

Unknown

Shirt

Blue with a red X
Akatsuki (あかつき) is one of the two playable protagonists of the game 13 Page (13ペエジ), the other being Hanatsuki (花付き).
Appearance
Edit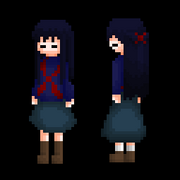 Akatsuki has long dark blue hair. It is clipped up in the back with a red "x" shaped clip (or 2 straight clips). She has a blue shirt with a large red x-like design on the front. She has a grey-blue skirt and brown shoes.
Personality
Edit
Not much of Akatsuki's personality is shown.
Little is known of Akatsuki's past.
Other Game Appearances and References
Edit
Ad blocker interference detected!
Wikia is a free-to-use site that makes money from advertising. We have a modified experience for viewers using ad blockers

Wikia is not accessible if you've made further modifications. Remove the custom ad blocker rule(s) and the page will load as expected.