Alive Arrow (アライブ・アロー)

Alive Arrow's Title Screen
Release
Latest Version

0.32

Creator
Original Language
Engine
Original Date

Details
Protagonist

Fin (フィン)

Nexus Doors

4

Effects

7

Endings

0
Alive Arrow (アライブ・アロー) is a game produced by Nishi Juu Se Ruuto (西十瀬ルート). It was made with Wolf RPG Editor, and it's currently at version 0.32. It stars Fin (フィン) , a young girl. Like most Yume Nikki fangames you cannot exit your room. You can save using the desk in your room and can enter your dreamworld through the TV. 
Unlike most fangames, Alive Arrow is made in WOLF RPG Editor, so the controls are slightly different.
Pressing X brings up the menu, and Pressing S Wakes you up.
To take off an effect, you need to select the second option from the menu,
Fin can not, or simply doesn't want to leave her room, trying to do so will just bring up a short message.
You enter the TV to dream, similar to Umbra.
The nexus is a sort of floating piece of land, with 4 paths that lead to different parts of the "dream" world. Going straight up from the nexus shows another Fin, but with her eyes open and her hairclip on the other side of her head, standing on a sort of gear pattern on the floor.
Fin's "dreams" are very light, it is possible that she wants to escape reality by watching/entering her TV.
| Name | Image | Description |
| --- | --- | --- |
| Wisp | | Fin becomes a ghostly blue and her hair blows to the side. This effect increases your speed. |
| Long Hair | | Fin's hair grows longer, and she is tinted a sunny yellow. |
| Apron | | Fin wears a cute pink apron with a front pocket and a white flower on the front. |
| Princess | | Fin wears an elegant pink dress along with a tiara. |
| Lantern | | Fin wears a red dress and headband while holding a lantern. This is required to enter the dark castle. |
| Dot/Pixel | | Fin becomes a Madotsuki-like Sprite. |
| Dog | | A dog found in the dark castle will follow Fin around. The Dog will continue to follow you around, even when putting on other effects, or hitting the "remove effect" option from the menu. |
Downloads
Edit
| Version | Date | Announcement | Download |
| --- | --- | --- | --- |
| ver0.32 | October 29, 2012 | Pixiv | Japanese |
| ver0.31 | October 14, 2012 | Unknown | Japanese |
| ver0.3 | July 7, 2012 | Unknown | Japanese |
| ver0.2 | June 4, 2012 | Unknown | Japanese |
| ver0.1 | March 1, 2012 | Unknown | Japanese |
External Links
Edit
Gameplay Video (Version 0.20)
Edit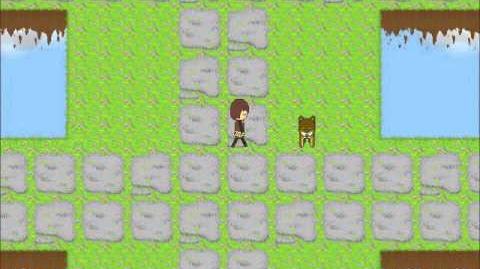 Ad blocker interference detected!
Wikia is a free-to-use site that makes money from advertising. We have a modified experience for viewers using ad blockers

Wikia is not accessible if you've made further modifications. Remove the custom ad blocker rule(s) and the page will load as expected.