Dickme Dicki

Dickme Dicki's Title Screen
Release
Latest Version

0.1

Creator
Language
Engine

{{{Engine}}}

Release Date

Details
Protagonist

Faggotsuki

Nexus Doors

8

Effects

0

Endings

1
Overview
Dickme Dicki is a Yume Nikki fangame by Owl (Who also created Miserere). The game has protagonist named "Faggotsuki", who has green hair and closed eyes. He appears to be a palette swap of Miserere's protagonist. The game was intended to be a joke, with some blatant criticisms of the fandoms developers' shortcomings.
Gameplay
You begin in a dank room with a bed. You can enter this bed to fall asleep and start dreaming. In the dream, Faggotsuki can have sex with a blue-haired palette swap and enter one of 4 nexus doors which lead to rooms with strange sound effects and tile pieces.
Download/External Links
Gameplay video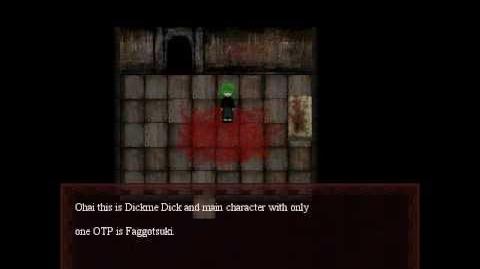 Ad blocker interference detected!
Wikia is a free-to-use site that makes money from advertising. We have a modified experience for viewers using ad blockers

Wikia is not accessible if you've made further modifications. Remove the custom ad blocker rule(s) and the page will load as expected.