Dry (Character)

Official art of Dry
Sprite
Release
Meaning

"Dry" = Without alcohol. Meant to be ironic.

Age

College student

Gender

Male

Appearance
Hair

White

Eyes

Unknown

Shirt

Red striped shirt with red vest
Dry is the protagonist of the Yume Nikki fangame DRY. The game's title and his name appears to be a pun because Dry is an alcoholic.
Appearance
Edit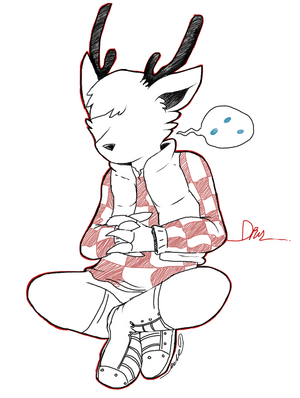 Dry is a white/light grey deer. He has a black nose and black antlers. He wears a long-sleeved red striped shirt with a lighter red vest over it, dark grey pants and black boots.
Personality
Edit
Dry is an alcoholic who had recently graduated from college and is about to enter university. The game begins with him sitting in a pub and asking the bartender for another drink, but he talks him out of it and tells him to go home. The problem is Dry is far away from home right now, as his father gave him a CD that should help him to overcome his addiction. His father said that Dry should be far away from home for it to work, so he took a tent and traveled to the place where the game starts.
Dry lives in a different place than the one the games starts from.
Other Game Appearances and References
Edit
Ad blocker interference detected!
Wikia is a free-to-use site that makes money from advertising. We have a modified experience for viewers using ad blockers

Wikia is not accessible if you've made further modifications. Remove the custom ad blocker rule(s) and the page will load as expected.