Emma Maria "Emory" Mendoza

Official art of Emory (Source)
Sprite
Release
Meaning

Unknown, possibly a distortion of "Emma Maria" to sound less feminine

Age

19

Gender

Non-binary

Appearance
Hair

Green

Eyes

Brown

Shirt

Light gray with black spade symbol ♠
Emory Mendoza (エモリー・メンドーサ) is the nonbinary protagonist of FOG. Their epithet as shown on the status page is "Yokunashi" (欲無し, "without greed").
Appearance
Edit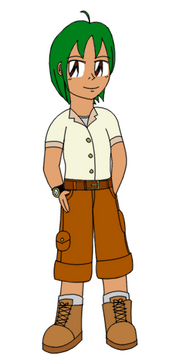 Emory has short shag green hair, brown eyes, and dark skin. They usually wear a long light gray shirt with a black spade on it and white socks to bed. Although slightly older than their friends, they are significantly shorter, 4'10" (147.32 cm) in height. They may dress in either men's or women's clothes depending on how they feel, although they have been known to wear genderless clothes such as a mouse kigurumi.
Personality
Edit
Emory seems to be somewhat coy and flirty, on top of sharing several traits with both of their friends. They are actually very insecure and uncertain about their purpose in life; they wander alone to compensate for this, and they value their solitude as much as their friendships.
Emory is good friends with Leon and Tegan, who share the same dream. A Morse code message heard in one of the dream worlds gives credence to the fact that their friendship has been strained.
Emory is an American, born as a daughter of a Peruvian archaeologist and a Haitian linguist. They started school at age 7. They were born on February 24, making them a Pisces.