Gnosis

Version 0.01+ title Screen
Release
Latest Version

0.01+

Creator
Language
Engine
Release Date

Details
Protagonist

Doug Bigham

Nexus Doors

10

Effects

19

Endings

None implemented
Gnosis is a fangame made by jcm2 (DeviantArt , Tumblr and pixiv accounts).
The game involves a protagonist named Doug Bigham who explores his dreams and memories.
The project was left on 2014.
Doug Bigham lived a life like he wanted, because he had become in a safety riot team, until he found himself wounded in the middle of debris under the rain without any reason, with a serious wound in his head. The dreamworld and memories will be the only method to rebuild the events that brought him to that situation.
Not all effects do something. You can use them mostly with SHIFT. Sometimes with 2 and cancel them with 3.
You will need at least 17 primary effects (Kama-El is obligatory) to get an ending.
There are also Gag Effects. They do nothing but is cool to get them.
Name
Image
Description
Pistol

Doug's weapon. Wearing this effect may chase away NPCs. Interacting with them may kill them. Pressing SHIFT makes Doug reload the gun.
Memories (Oldman)

Doug becomes an oldman with a cane.
Riot Police

Doug wears a riot suit. Pressing 2 makes Doug wear a hat and a baton, you can take them off with 3.
Welder Mask

Doug wears a Welder Mask.
Child

Doug becomes his 8-year-old self.
Plastic Bag

Doug wears a bloody plastic bag on his head.
Responsible Adult

Doug becomes his 23-year-old self. He wears a white shirt and a cigarette on his mouth. Pressing SHIFT plays an exhaling noise.
Black/White Mask

Doug wears a black cane and a plague mask with red eyes. By pressing SHIFT you can attract rocks.

Doug wears a white plague mask and his right arm glows green. By pressing SHIFT you can repulse rocks.

You can only get one.

Young

Doug becomes his 17-year-old self. Pressing 2 teleports you into his old room, you can leave with 3.
Funeral

Doug wears a black suit and tie.
Voyeur

Doug's sprite changes to a gray palette and a smile. He also walks with his hands on his back.
Dark Man

Doug looks all black except for his white face and blowing light-blue eyes.
Gasmask

Doug wears a gas mask with green eyes and some kind of radiation suit.
Crow

Doug transforms into a crow (there are 3 forms). Pressing SHIFT makes him squawk.
My Hero

Doug wears a blue shirt and transforms into a big cat plush. Pressing SHIFT makes him meow and lets you save the game.
Doug Bigham

Doug becomes some kind of action figure.
Fright

Doug transforms into a black, Uboa-looking monster. Pressing SHIFT makes him laugh evily.
Fake Fox

Doug wears an orange Fox costume with a green coat and a tap hat.
Kama-El

Doug transforms into a demon capable of scaring and eating mostly every NPC. Pressing SHIFT makes him roar loudly.
Downloads
Edit
Gameplay Video
Edit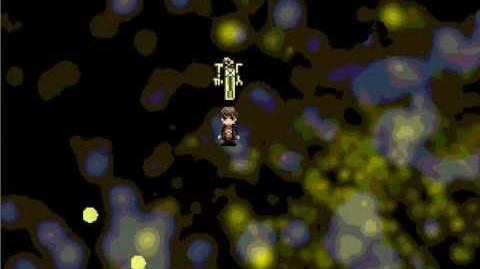 Ad blocker interference detected!
Wikia is a free-to-use site that makes money from advertising. We have a modified experience for viewers using ad blockers

Wikia is not accessible if you've made further modifications. Remove the custom ad blocker rule(s) and the page will load as expected.