Kudaranu Mousou No (くだらぬ妄想の)

Kudaranu Mousou No Title Screen
Release
Latest Version

0.02

Creator
Language
Engine
Release Date

Details
Protagonist
Nexus Doors

Kazuguruma - 6
Jose - 2

Effects

Kazaguruma - 7
Jose - 1

Endings

Kazaguruma - 3
Jose - 0
Kudaranu Mousou No (くだらぬ妄想の, Delusions of Our Dreams/Ridiculous Dream) is a discontinued Yume Nikki fangame featuring two protagonists named Kazaguruma (かざぐるま) (lit. pinwheel) and Jose (ホセ) . Though it seems widely referenced in the Japanese Yume Nikki fangame community, little is known about the game among Western gamers, as the unfinished version was taken out of public circulation by its author five years ago, and was, until recent events, unobtainable.
What sets Delusions apart from other fangames is the limiting concept of consecutive effects -- instead of exploring the wide dreamworld sandbox, the player is necessitated to collect effects and enter worlds in a certain order, and only once this task has been completed can they receive one of the three endings.
When playing as Kazaguruma, your starting location in real life is a hospital room. Her sister is in the room, and will make a noise when interacted with. Attempting to leave the room without any of the ending conditions will result in the locked door sound.
When playing as Jose, your starting location is your bedroom. You are able to leave into the hall, but trying to head outside of the hall will result in Jose walking back. Aside from your neighboring bedroom, all doors are locked. To the left of Jose's room is his sister's room, which looks near identical to Jose's.
Kazaguruma
Edit
| Name | Image | Description |
| --- | --- | --- |
| Tailwind (追い風) | | Makes Kazaguruma go faster, the windmill on her dress turns light green instead of the usual dark teal. |
| Bucket / Barrel (おけ) | | Kazaguruma turns into a short wooden bucket/tub/barrel. |
| Knife (ナイフ) | | The weapon effect. Kazaguruma wields a knife and has a red windmill on her dress. |
| Kazehana (風花) | | Kazaguruma's sprite appears in a whitish hue. It sends down snow when equipped. |
| Dress (ドレス) | | Kazaguruma wears a white and light blue dress with dark grey shoes. |
| Wind and Rain (風雨) | | Kazaguruma wears a blue hooded short cape. It makes it rain when equipped. |
| Bouquet (花束) | | Kazaguruma holds a bouquet of small white flowers wrapped in light blue paper. |
Name
Image
Description
Werewolf (人狼)

Jose grows wolf ears and tail. It allows to kill NPCs
White Rabbit (白兎)

Jose clothes seems to reference the White Rabbit from Alice in Wonderland. With it you can go faster.

This is an unused effect.

Magician (魔術師)

An unused effect.
Transparent (透明人間)

Jose becomes transparent.

An unused effect.

Lantern (?) (ランタン)

Jose holds a golf club.

An unused effect.

-

Jose holds an umbrella.

This is an unprogrammed effect, found within Jose's sprites files.
External Links
Edit
Gameplay Video
Edit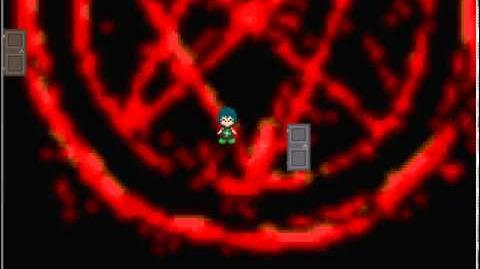 Ad blocker interference detected!
Wikia is a free-to-use site that makes money from advertising. We have a modified experience for viewers using ad blockers

Wikia is not accessible if you've made further modifications. Remove the custom ad blocker rule(s) and the page will load as expected.