Kyukkyu-kun Game (キュッキュくんゲーム)

Title screen
Release
Latest Version

0.20 (Final)

Creator
Language
Engine
Release Date

Details
Protagonist

Kyukkyu-kun

Nexus Doors

N/A

Effects

N/A

Endings

N/A
Kyukkyu-kun Game (キュッキュくんゲーム, QQ-kun, KyuuKyuu-kun Game) is a dodging game somewhat similar to the mini-games (like NASU) played in the different fangames. It stars a white Kyukkyu-kun, the Yume Nikki character to whom this game is dedicated to.
The game's first title screen and the "How to Play" instruction are in Japanese, the game's interface is completely in English.
Make Kyukkyu-kun rub the stair rail while moving up and down the staircase to avoid getting hit by Misotsuki's projectiles. The more times you rub the rail, the higher your score goes.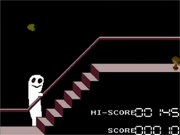 In this game you control a white Kyukkyu-kun whose enemy is Misotsuki (who has a same name and appearance in Miso Nikki). She is throwing miso at it for some reason.
External Links
Edit
Version 0.20 (Final) release blog post
With a link to where the game was previously stored.
Ad blocker interference detected!
Wikia is a free-to-use site that makes money from advertising. We have a modified experience for viewers using ad blockers

Wikia is not accessible if you've made further modifications. Remove the custom ad blocker rule(s) and the page will load as expected.