Kyukkyu-kun Game (キュッキュくんゲーム)

Title screen
Release
Latest Version

0.20 (Final)

Creator
Language
Engine
Release Date

Details
Protagonist

Kyukkyu-kun

Nexus Doors

N/A

Effects

N/A

Endings

N/A
Kyukkyu-kun Game (キュッキュくんゲーム, QQ-kun, KyuuKyuu-kun Game) is a Yume Nikki-themed dodging game similar to the mini-games (ex. NASU) played in different fangames. It stars a white Kyukkyu-kun, a recognized character from Yume Nikki.
The game's title screen and "How to Play" screen are in Japanese, but the game's interface is completely in English.
Make Kyukkyu-kun rub the stair rail while moving up and down the staircase to avoid getting hit by Misotsuki's projectiles. The more times you rub the rail, the higher your score goes.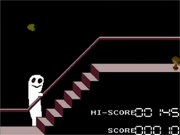 In this game you control a white Kyukkyu-kun whose enemy is Misotsuki (of Miso Nikki). She is throwing miso at it for some reason.
Downloads
Edit
External Links
Edit