Lonely

Lonely's version 0.005a Title Screen
Release
Latest Version

0.005a

Creator
Language
Engine
Release Date

Details
Protagonist

Anistasia

Nexus Doors

4 (Only 3 are accessible so far)

Effects

7

Endings

N/A
Lonely is a game by Meepy (Pixiv, Tumblr, and Deviantart accounts), that was originally made in RPG Maker XP, but was remade in RPG Maker 2003. The game stars Anistasia, a girl who seems to have locked herself in.
Lonely plays like most fangames, currently the main objective is exploration and collecting effects. Additionally, there are a few events and dialogue, similar to Broken Bottles. This game also contains a few wake-up events, has almost no BGM and features relatively small looping and not looping worlds.
From what has been shown so far, Anistasia's dreams are more like nightmares. They may be about things from her real life that she wanted to forget by dreaming.
| Name | Image | Description |
| --- | --- | --- |
| Puppy | | Anistasia becomes a dog that increases her speed and allows her to see better in dark areas. Its collar tag has the name "Skittles" on it. Skittles is also Meepy's dog. |
| Fire Poker | | Anistasia's weapon. |
| Teddy | | Anistasia holds a brown teddy bear. |
| Princess | | Anistasia wears a blue dress with her hair in a ponytail. |
| Tiger | | Anistasia has a tiger's ears and tail. |
| Bloody | | Anistasia has some blood on her face. The description says it doesn't hurt. |
| Little | | Anistasia becomes smaller and her hair isn't messy anymore. |
Download/External Links
Edit
Tumblr Release Post (Version 0.00 (old)
Gameplay Video
Edit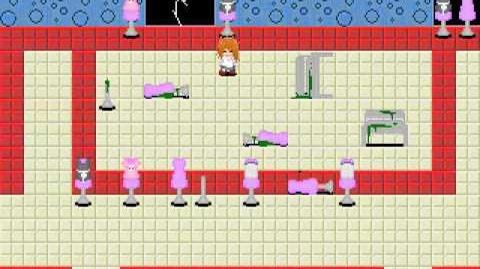 Ad blocker interference detected!
Wikia is a free-to-use site that makes money from advertising. We have a modified experience for viewers using ad blockers

Wikia is not accessible if you've made further modifications. Remove the custom ad blocker rule(s) and the page will load as expected.