Soutarou (宗太郎)

Official art of Soutarou. Source
Sprite
Release
Meaning

Unknown

Age

Unknown, presumably a young adult.

Gender

Male

Appearance
Hair

White

Eyes

Unknown

Shirt

Black shirt with a turquoise jacket.
Soutarou or Shuutarou (宗太郎) is the main character of the game Mikan Muzou (未完夢像). His hairstyle bears a resemblance to Tatsuki's, the protagonist of Debris, a fangame made by the same creator as Mikan Muzou.
Appearance
Edit
Soutarou has white long hair tied in a ponytail. He wears an open turquoise coat and a black shirt, along with grey pants and brown shoes. He is said also to have an earring on his left ear. Due to his voice and appearance his fans see him as an adolescent/young-adult. (Source)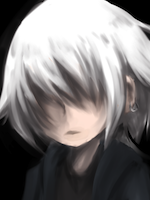 - Soutarou's (possible) faceset icon and the original painting of his face - identical to the one on his Picture Frame effect.
Personality
Edit
"Poor guy, doesn't even have a bed to sleep on, using a couch instead. Outside of his room there's a little balcony with damaged railing. He's one of the few protagonists that won't check up on the women's toilets/showers, a really honest guy!" (Source)
Unknown.
Other Game Appearances and References
Edit
Ad blocker interference detected!
Wikia is a free-to-use site that makes money from advertising. We have a modified experience for viewers using ad blockers

Wikia is not accessible if you've made further modifications. Remove the custom ad blocker rule(s) and the page will load as expected.